Splurge-Worthy Everyday Kitchen Cookware, Small Appliances and Daily Use Items
Need some new cookware? Wondering what ice maker or countertop appliances to buy for your new home? Here is a roundup of personal favorite kitchen splurges worth every penny.
*post contains affiliate links
FAVORITE KITCHEN ITEMS, COOKWARE AND SMALL APPLIANCES
Stanley 40oz insulated drinking tumbler is the number one, never-leave-home-without-it item. Stay hydrated all day, with a large handle for easy carrying, and a slim design that will fit into car cup-holders. Many people like the similar more budget-friendly Simple Modern 40oz tumbler too.
GE Profile 2.0 Nugget Ice Maker makes the perfect chewable ice pellets. While more expensive than most countertop ice makers, it is a bargain for the comparable quality of under-counter built-in nugget ice makers that can run over $1500+.
Looking for an air fryer? This stainless steel Emeril convection oven is an all-in-one perfect solution. Most air fryers have a non-stick coating with forever-chemicals that are toxic! Not only is this Emeril one a healthier stainless construction - it has a dehydrator, rotisserie setting and more. The French-door design is convenient too. Perfect for people desiring a second-oven solution, or even for a mother-in-law suite.
Viking hammered copper stainless cookware is beautiful on the outside, and stainless steel on the inside for a healthier cooking surface. Have open shelving? These are display worthy.
Greenpan ceramic coated cookware is a more budget-friendly option, also with a safer nonstick-coating than other chemical-laden pans. You can buy the whole set, or just the individual pieces you need. (Pay attention to their cleaning instructions - like only washing them once they have cooled after use.)
GIR Silicone Spoonulas are my favorite cooking utensils. They are food-grade silicone, high-heat resistant, and are one solid piece to make cleaning easy. Perfect for a serving spoon, scraping the bowl, or scrambling eggs.
After cooking, you need a way to store your leftovers. These glass round food containers with silicone lids or these rectangular containers are my favorite. Ditch the plastic Tupperware and upgrade to chemical-free glass storage with easy-open lids.
Another go-to for food storage are these silicone re-usable ziplock storage containers. The large flat bottom helps it stand up in the fridge, and the flexible sides help it fit into small spaces. The wide opening makes it a great free-standing bowl to directly eat from too.
KitchenAid stand mixer makes a beautiful countertop accessory and baking enjoyable. Let the machine do the mixing while you clean up and put away ingredients.


Moccamaster coffee maker makes delicious coffee and looks pretty doing it. Use distilled water for an even fresher taste.
SMEG toaster and matching SMEG kettle make beautiful countertop accessories if you are lacking cabinet storage space. Don't think you will really use a kettle? It is great for multiple uses besides making tea. Boiling hot water can be used for cleaning tough spots, like splatter in microwaves. You can even use it for chemical-free weed killer. Just pour boiling water over the offending weed and it will shrivel up by the next day!
See SMEG's other colors of kettles and toasters here.
*Note: The copper color shown below is a mirrored shiny copper that will show reflections. I was surprised, but personally love it. This is difficult to show in marketing images, so see customer review images to be sure you like the style. They also have a matte champagne if that is more your thing.
If you have never tried an Anti-Fatigue Kitchen Mat, you are missing out! Place it on the floor under your sink and watch your lower back pain melt away when washing dishes. And once you try it, you will want another one for your stove area while cooking.

An Automatic Foaming Soap Dispenser is a great addition to any cooks kitchen. When your hands are messy, you can wash your hands with no cross-contamination.


One additional update that saves the messy-hands issue - a touch kitchen faucet. With only a tap of the back of your hand or arm, it turns off and on.
Happy Kitchen Shopping!
The Decorating Coach®


---

Interested in more Kitchen tips? Next articles to read:
Pro Decorator's Favorite Home Organization Tools and Gadgets - Part One: Kitchen
Best Silicone Kitchen Tools to Make Your Life Easier
---
*As an Amazon associate, I earn from qualifying purchases* Think of me as your personal shopper, but Amazon is footing the bill for the service. If you purchase an item using the link here in this post, there's no additional cost to you, and for discovering & sharing this new item for your home, I earn a small commission from Amazon to cover the administrative costs of running this website. Win-win :)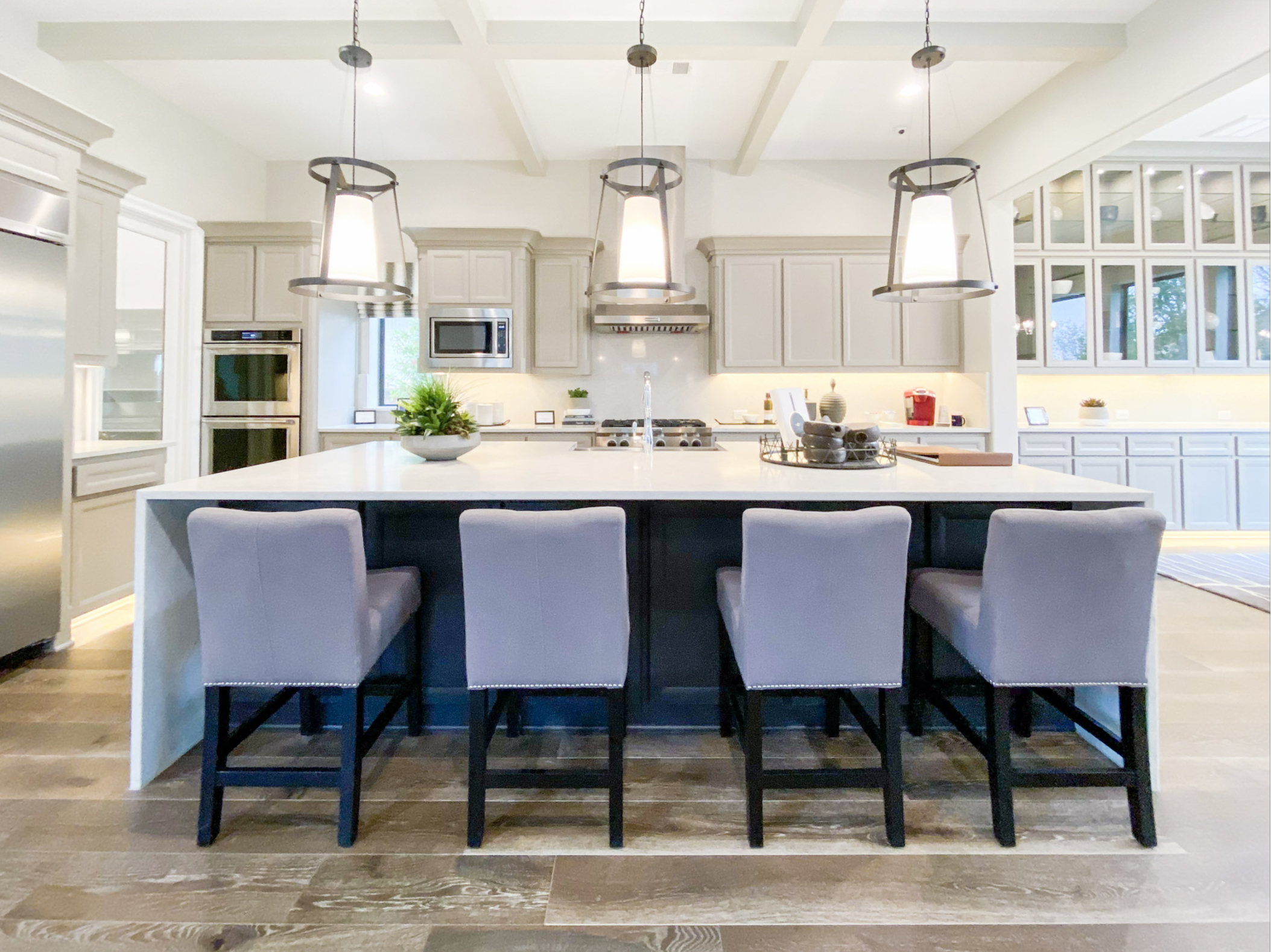 photo taken while touring a TollBrothers builder model home
decorating tips concierge
Get the latest design tips & strategies delivered to your inbox every month.
(Yes, they are FREE & we keep your privacy.)
Yes, deliver to my inbox!