Best Pendant and Chandelier Lighting Fixtures to Instantly Give Your Home a Design Update
Lighting is one of the fastest ways to upgrade the style and add interest to your home. It serves both as beautiful jewelry for the room and functional illumination of the space.
Builders often use generic lights that they buy in bulk for a discount. Customize your home by changing out the fixtures one-by-one, as your budget allows.
Putting your home on the market to sell soon? New lighting is a fairly inexpensive way to instantly give more modern style to a dated room.
Pro tip: replace with a larger size! Most builders go too small.
What is the Right Size?
If the fixture is going over a dining table, don't exceed the width of the table. A common rule of thumb is to choose a fixture with a diameter ~12" less than the table width. Hang so that the bottom of the fixture is 30-36" above the tabletop.
If the fixture is for the room, add the width + length of the room in feet. This equals the approximate diameter of your new fixture in INCHES. So a bedroom that's 12ft wide + 12ft long = 24. Your light fixture for the room should be around ~24 inches in diameter. If you have a ceiling 10ft or higher, add a few inches to account for the added room volume.
Direction of Light
Pay attention to the direction the lightbulbs face. If they point upward, light will reflect off the ceiling and provide a softer, general light.
If the bulbs point downward, pay attention to the light dispersement. If they are surrounded by clear glass, the light will be more multi-directional. If inside a dark or solid shade, the light will only illuminate what is below.


Below are a few ideas and favorite fixtures to help in your search when upgrading your home's lighting design.

*This post contains affiliate links

Pendant Lighting
One of the most requested sources clients ask for are these hammered glass pendants. They are beautiful over a kitchen island.
They also come in black metal hardware and bronze metal hardware versions.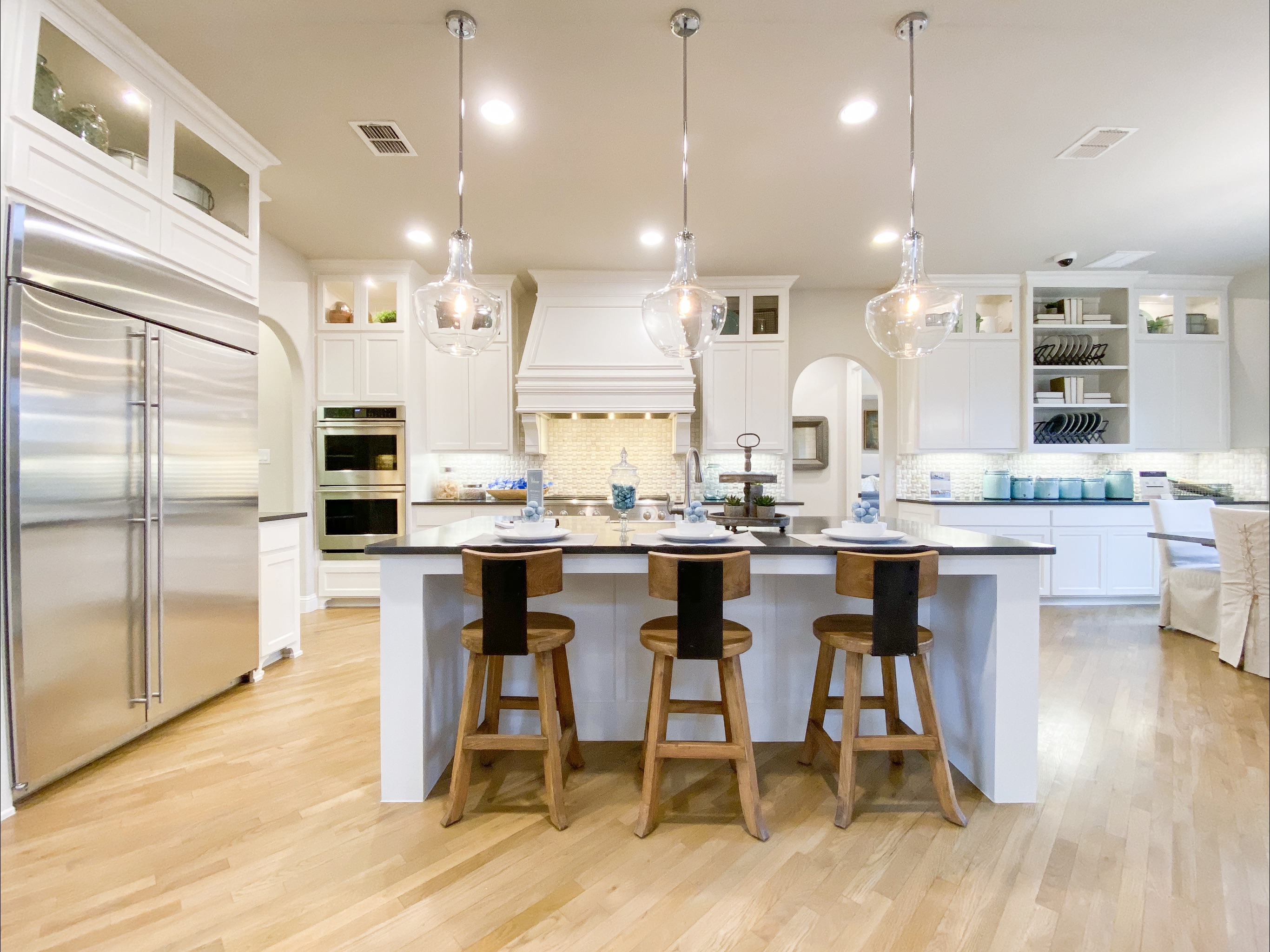 Photo taken while touring Darling builder model home

Curvy vase-shaped pendants like these can help break up all the straight lines in a kitchen.

Photo taken while touring TollBrothers builder model home
Or these simple glass farmhouse pendant lights create a subtle decorative accent, without distracting from the rest of this elegant kitchen.

Photo taken while touring Britton builder model home
Want a more industrial touch? These metal pendants introduce a new texture and a bold contrast to all the wood cabinetry and shiplap.
Chandeliers
Photo taken while touring TollBrothers builder model home
Have a long dining table? Consider 2 chandeliers! These round shade chandeliers give a soft diffused light perfect for dinner parties.

Photo taken while touring Highland builder model home

Exposed bulb fixtures like this modern round metal chandelier adds a simple, industrial feel to a dining or living space.
Photo taken while touring Southgate builder model home

For a fixture with more gentle lines, this gold chandelier is a fresh design with classic curves.
Like a more bohemian feel? Try a beaded chandelier for textural variety and a bit of whimsy.
Or this French country beaded chandelier with a mix of light wood and smaller beading.
---

Interested in other posts about lighting? Check out:
Inexpensive Lighting Gadgets that Give a High End Look
The Secret Decor Accessory to Give Your Home a Warm and Welcoming Feel


---

*As an Amazon associate, I earn from qualifying purchases* Think of me as your personal shopper, but Amazon is footing the bill for the service. If you purchase an item using the link here in this post, there's no additional cost to you, and for discovering & sharing this new item for your home, I earn a small commission from Amazon to cover the administrative costs of running this website. Win-win :)


decorating tips concierge
Get the latest design tips & strategies delivered to your inbox every month.
(Yes, they are FREE & we keep your privacy.)
Yes, deliver to my inbox!