Best Home Organization Tools and Gadgets - Part Two: Closets and Bathrooms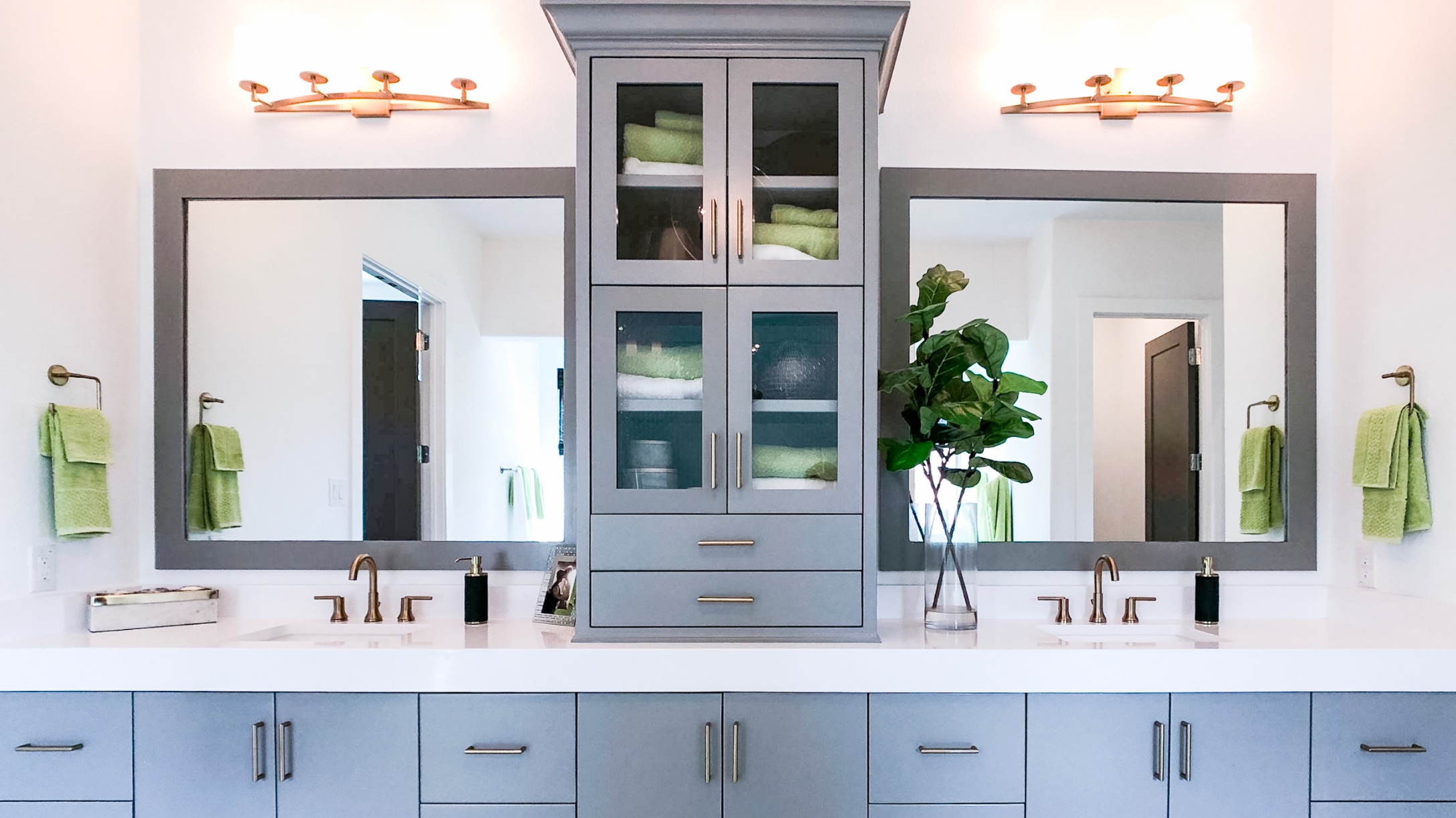 HOME ORGANIZATION
---
*This post is Part 2, the "Closet and Bathroom" edition. If you want to start with Part 1, home organizing with "Pantry and Kitchen" tips and recommendations, start here: Pro Decorator's Favorite Home Organization Tools and Gadgets - Part One: Kitchen
---
BATHROOM AND CLOSET ORGANIZATION

Having an organized bathroom and closet is a big return on your investment. You appreciate the efficiency as you get ready for work, quickly change for the gym, easily find your outfit before a nice dinner out, and complete your nightly routine before bed. Because you use these spaces multiple times per day, items get shuffled around and misplaced without a system.
Being able to find what you are looking for, and knowing at a glance what needs to be restocked, can save your wallet from buying too many duplicates as well.

The Bathroom and Closet organization process is simple:
Sort items by categories.
Contain each category to a defined section or bin.
Group items within each category by size and color.
Label categories so there is no confusion for other people to maintain the system.


Tip: Buy MATCHING container styles. Mismatched containers create a feeling of clutter. The more coordinated your organizing tools look, the more clean the space appears.
BATHROOM ORGANIZATION
*contains affiliate links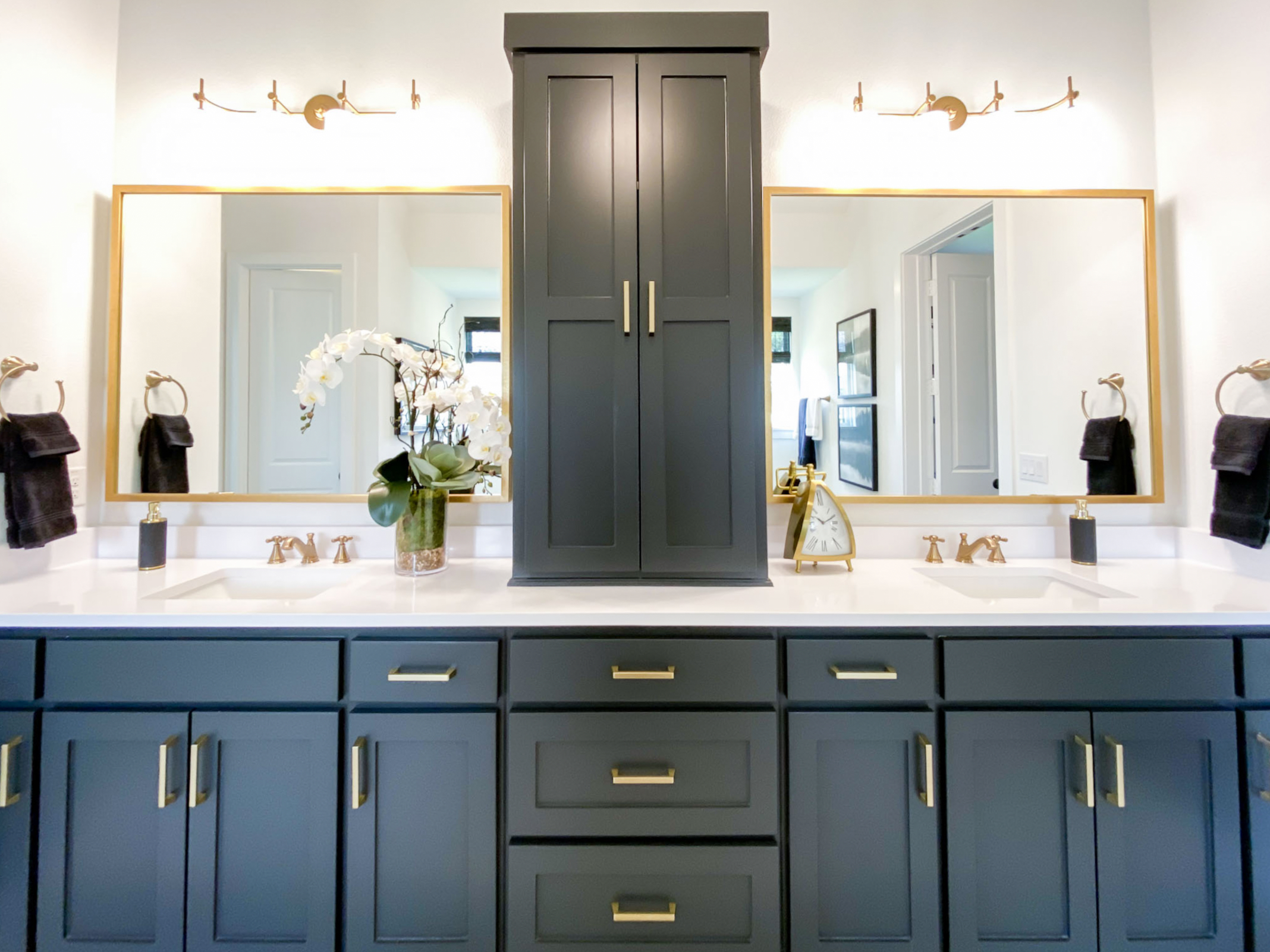 photo taken while touring a Southgate Homes builder model home
Your bathroom can quickly become a disaster zone. It's daily use, multiple small bottles and tools to use and put away - combined with commonly rushing to get out the door - make it a challenging place to keep organized.
It's full of items that are impulse purchases as well. An extra nail polish, 2-for-1 specials on lotion, a new cologne - all the things bought for a quick pick-me-up after a rough week. But then they must be stored systematically so they won't get lost among the hundreds of other bottles and tubes in this room.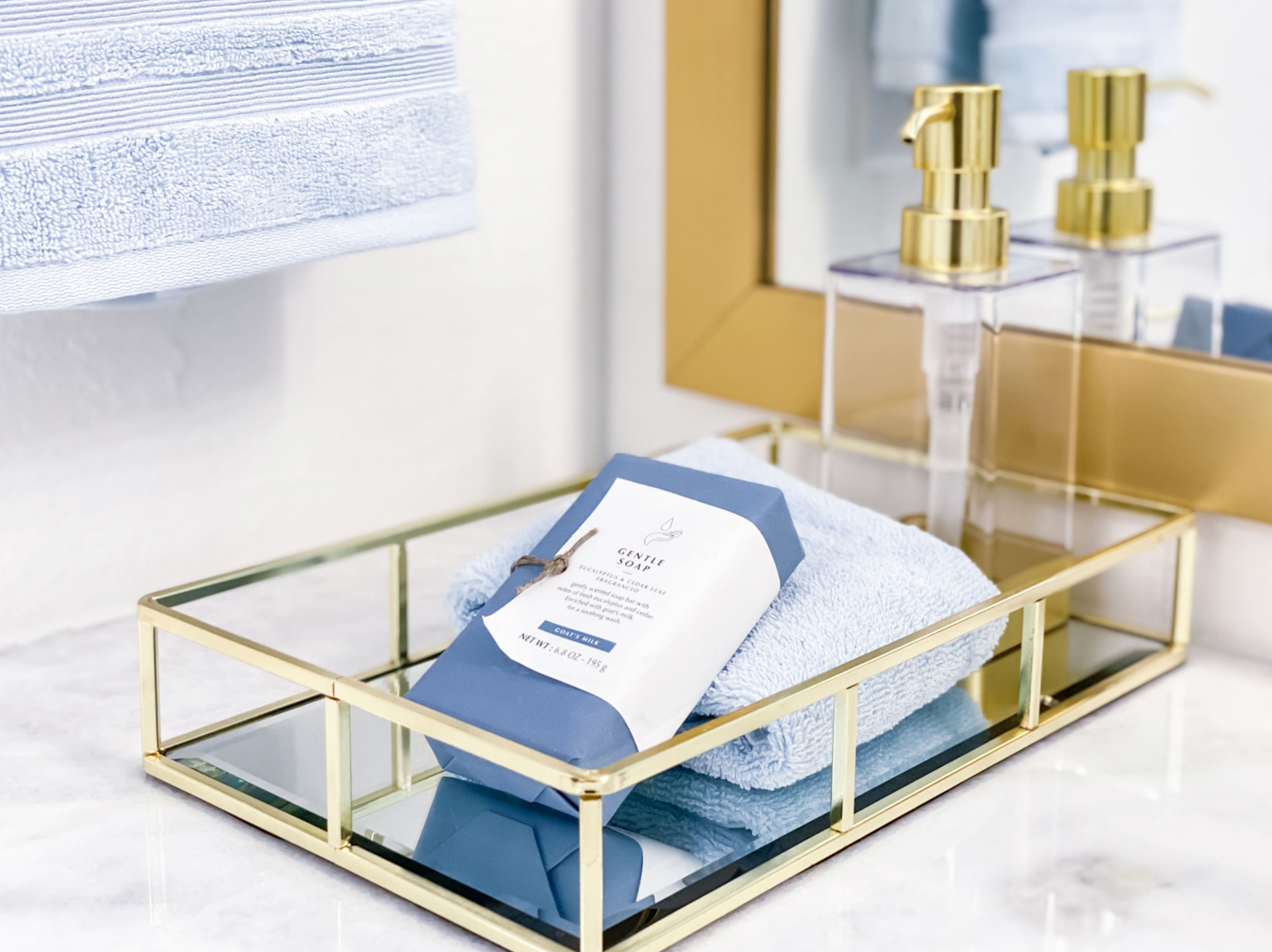 Keep daily-use small items contained on a beautiful metal or marble tray - pretty enough for counter display, or easily tucked away in a cabinet when not in use. Small baskets are another option that add a bit of texture to the space.
If you want to go the extra mile, buy matching bottles for your displayed bathroom products. When you see multiple mismatched retail labels on your counter and in the shower, it begins to look similar to a grocery aisle, where all the different brands are fighting for your attention.
Here are a few options - be sure to note if the dispenser is for "foaming soap" or standard liquid soap, depending on your desired type.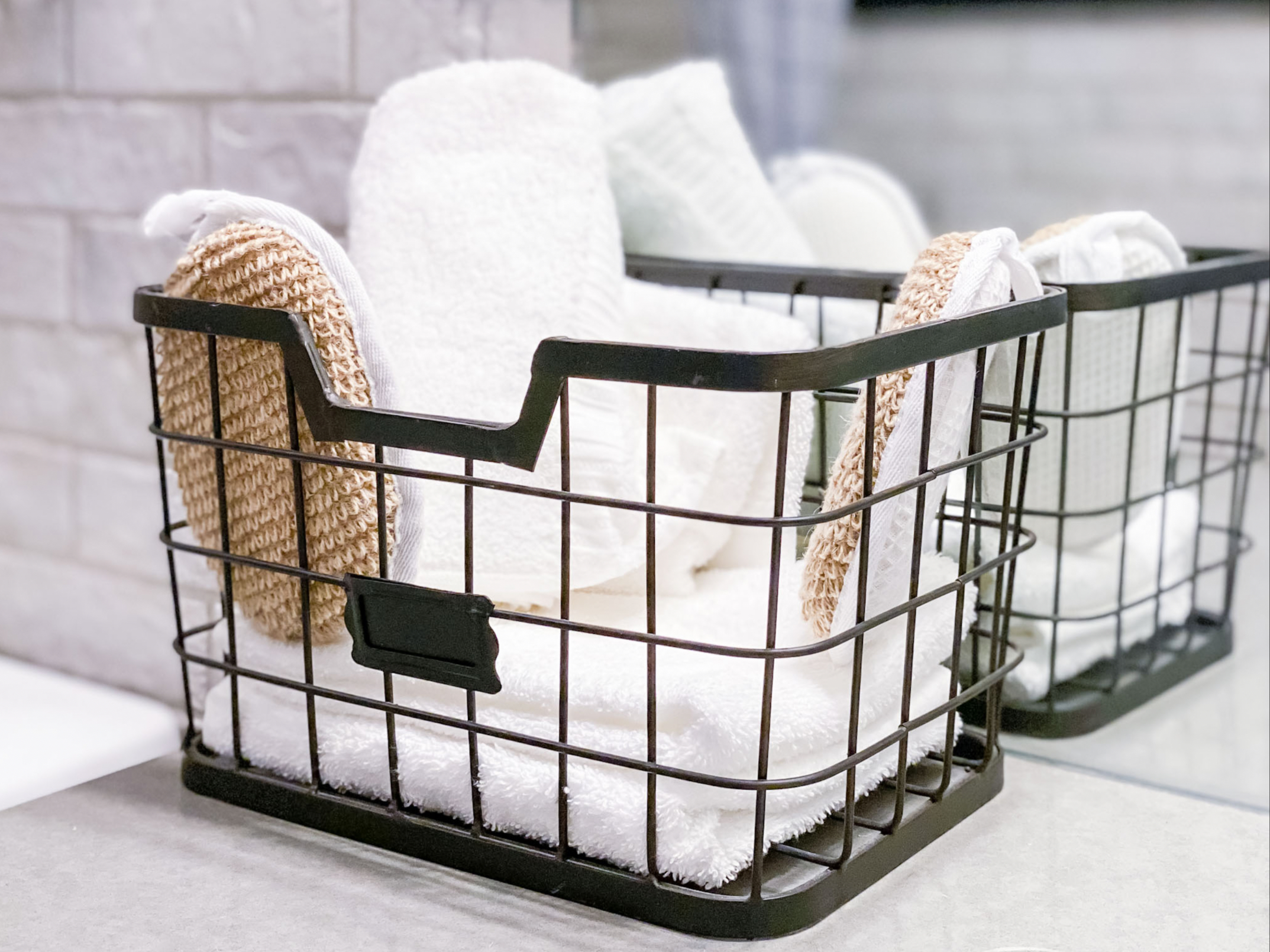 For cabinets and drawers, bins and dividers are a great option to section off categories and keep all your products easy to find. LIke smaller stackable clear bin drawers for things like first-aid items, nail care, skin care etc. Or tiered slide-out shelves to easily see and reach items further back in the cabinet under your sink.
Before you start organizing, bring everything out of your cabinets and drawers. Throw out any expired products and donate items you no longer use. Then group everything into categories.
Find matching bins that will appropriately fit each category, and don't forget to label them! This may feel unnecessary now, but it's how you will maintain the system, and how other family members know where to find and put away items they borrow.


For shelves and deep drawers, a large basket to contain all tools like a hair dryer and curling irons works well. Or medium-sized bins to group tall bottles.
And don't forget dividers for your drawers to contain all your smaller items like hair ties, dental floss, and chapsticks.


CLOSET ORGANIZATION
Your closet is another victim of daily use. Trying on multiple outfits to choose the right one to wear. Having a full day of multiple activities and needing to change outfits to suit each one. Clean laundry coming in, and dirty laundry going out. This room is full of constant change.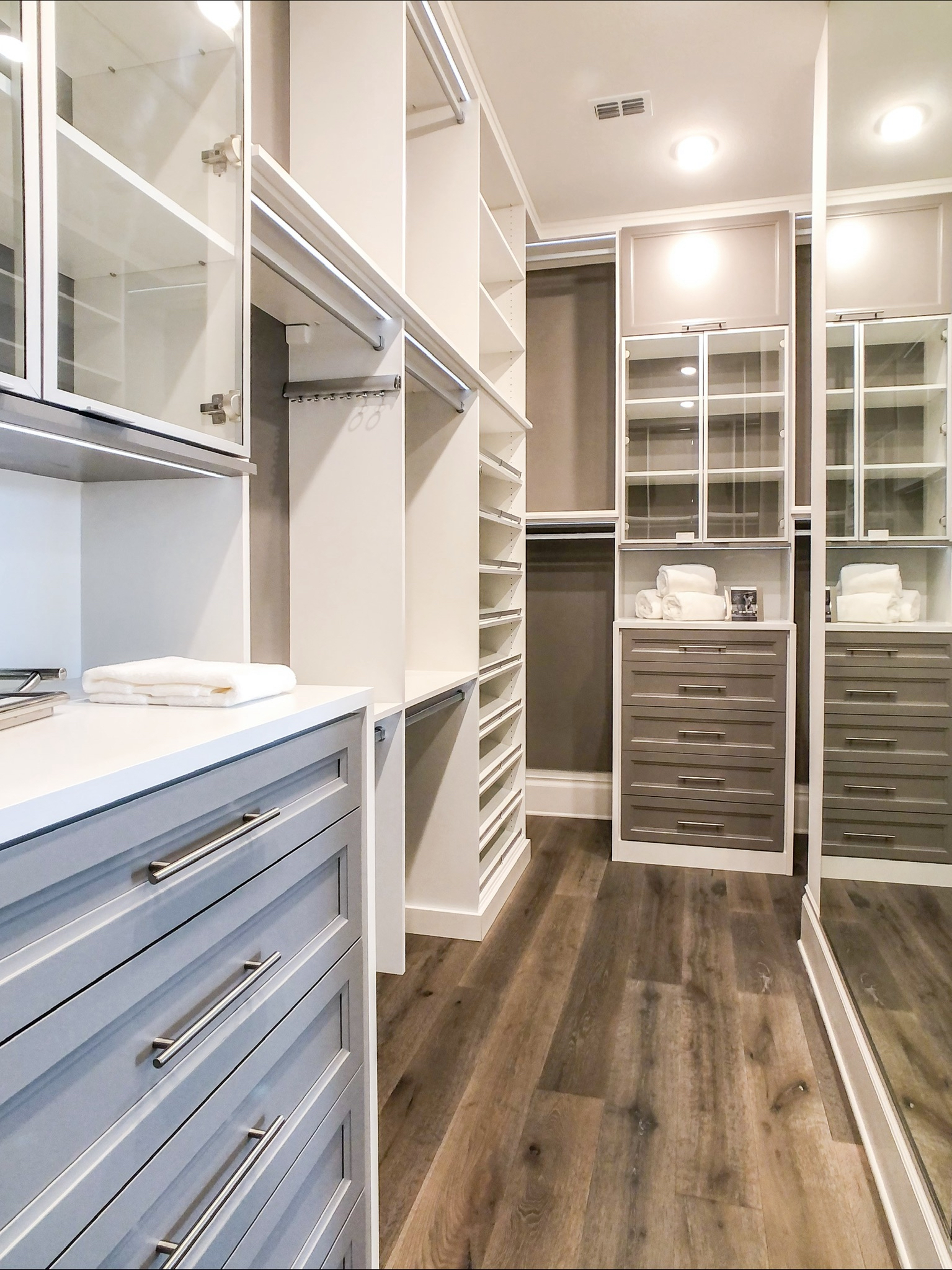 First: take inventory. Now is a great time to go through your closet and decide if you want to donate anything you no longer wear. Take everything out of your closet and start with a blank slate.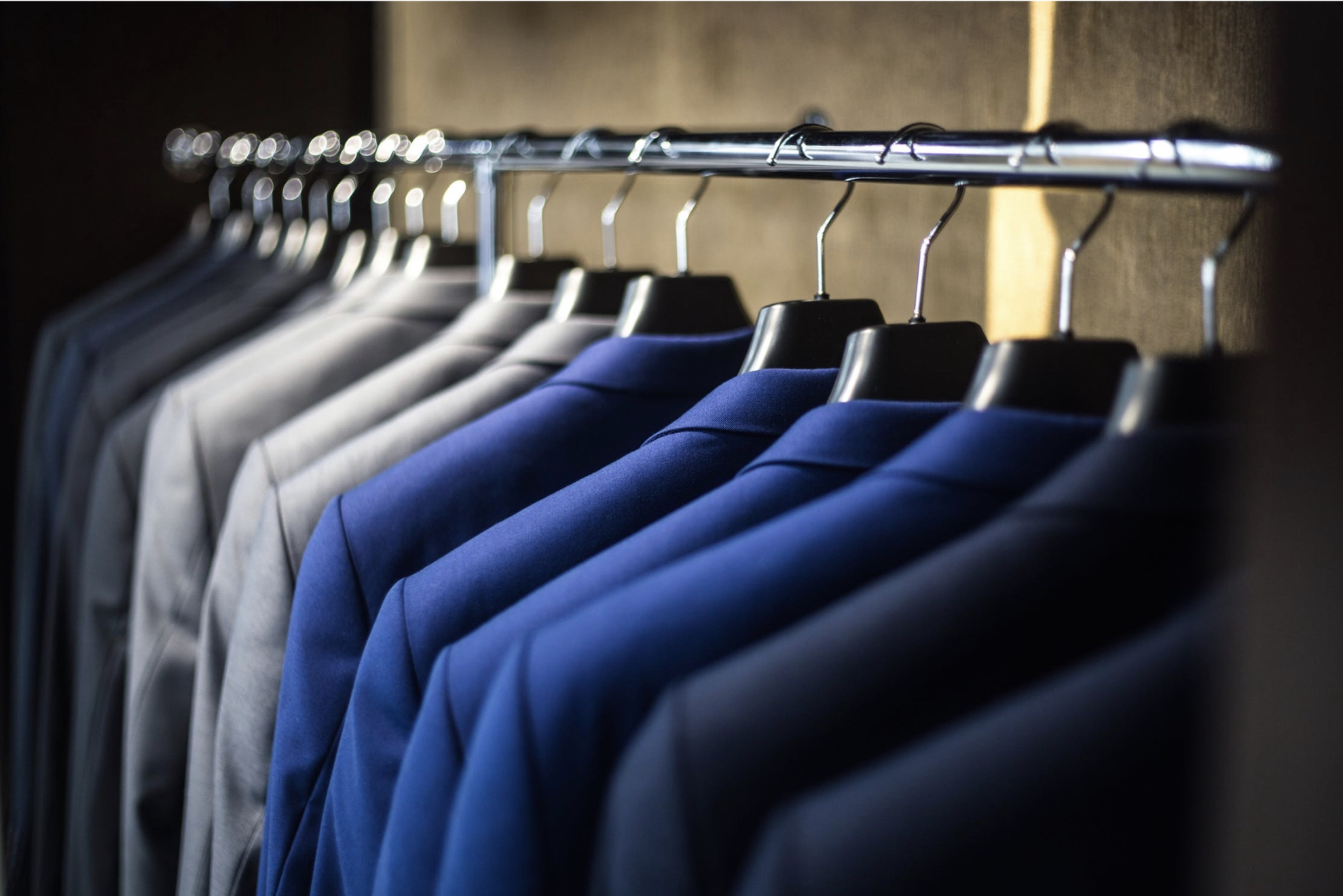 Sort items into categories like jeans, pants, shorts, jackets, sweaters, dress shirts, t-shirts, tanks. Then within each category, group by color. So for dress shirts, you would group dark to light, with black shirts together, followed by brown shirts, etc.
Decide what clothing categories you want to fold vs hang. Are the folded items going in drawers or on shelves? This will help you decide what types of organizers you will need and how everything can fit in your closet if you are short on space.
If you have a large closet, but only have hanging rods, consider adding a tall chest of drawers or shelves in the excess space. This will not only give you hidden folded storage and shoe shelves, but it will help create 'sections' to organize your hanging clothes by obvious categories. Which will help you maintain your new system.
Need a budget-friendly tip with design impact? Matching hangers are one easy way to create a cohesive looking closet.
Then there are your accessories like hats, scarves, jewelry, bags, swimsuits, and snow gear. Matching baskets and storage bins are perfect for containing larger items, and shelf dividers can help for smaller items.
Closet drawer organizers or drawer dividers are a must for separating categories like underwear, socks, undershirts and ties.
(*To see Part 1 of this post, with PANTRY and KITCHEN tips and recommendations, click here: Pro Decorator's Favorite Home Organization Tools and Gadgets - Part One: Kitchen

Happy Organizing!
The Decorating Coach®


---
*As an Amazon associate, I earn from qualifying purchases* Think of me as your personal shopper, but Amazon is footing the bill for the service. If you purchase an item using the link here in this post, there's no additional cost to you, and for discovering & sharing this new item for your home, I earn a small commission from Amazon to cover the administrative costs of running this website. Win-win :)
decorating tips concierge
Get the latest design tips & strategies delivered to your inbox every month.
(Yes, they are FREE & we keep your privacy.)
Yes, deliver to my inbox!