How to Style Coffee Table Books like a Pro Decorator
Accessorizing your room with luxe coffee table books adds instant sophistication to any space. Study your favorite magazine photos and you will see it's almost every professional decorators go-to move to stack books on a table somewhere.
Entry tables, end tables, mantles, nightstands, ottomans, desks, flocating shelves, and of course, coffee tables. A stack of books instantly belongs.
They communicate a subtle nod to intellect and can give visitors a glance into your subject-matter interests. Even showcase some personality with an unexpected, quirky collection.


When selecting the tabletop books you will use, it takes a different approach than your previous book-buying criteria. These books are rarely ever read, their primary purpose is to act as beautiful decor. They are purely judged by their cover, spine, size and color family.


Group books by color
From a glance you want to 'read' a book grouping as one collective item, so sticking to one color family is usually best.


Occasionally decorators create a pop of contrasting color on top or within the stack to pull attention to one book in particular. Stick to colors within the room's existing color palette.
Another strategy is to create a pleasing 'ombré' effect of similar color spines, like various shades of neutrals going from light-to-dark (see example 2 photos above), or a collection of similar cool tones (green, blue, purple). EVern pick one color like pink, and do a stack in various shades.

Group books by size
Stack larger books laying down horizontally, with the largest book on the bottom, and small books (ex. 5"x7") belong only on top of horizontal stacks or grouped together standing vertically with bookends.
Small books in horizontal stacks get lost on large surfaces like coffee tables, so only use them on small end tables or nightstands.



Pay attention to how you will see the book
Will it be laying flat low to the ground on a coffee table or ottoman? These books will primarily be seen from above and the cover is the most important.
Will it be on an entry table or end table? Depending on the placement, usually both the cover and spines are equally seen.
On a tall floating shelf? You will only see the spine design.



Using Books as a Platform or Riser
Books can also be used as a platform or riser for vases, candlesticks or sculptural items if they are lacking height on their own. In this case, you may want the books to be in a similar color to the shelf/table they are sitting on, or to the objects they are holding to help camouflage them.
Play with the options to see which works better. This decorator had a two-tone vase, so she carried the light-dark pattern in the book stack as well.
If you have a dark surface and a dark object on top as shown below, you will want to create contrast with a platform of light-toned books to brighten the surface and prevent the object from just disappearing in the shadows.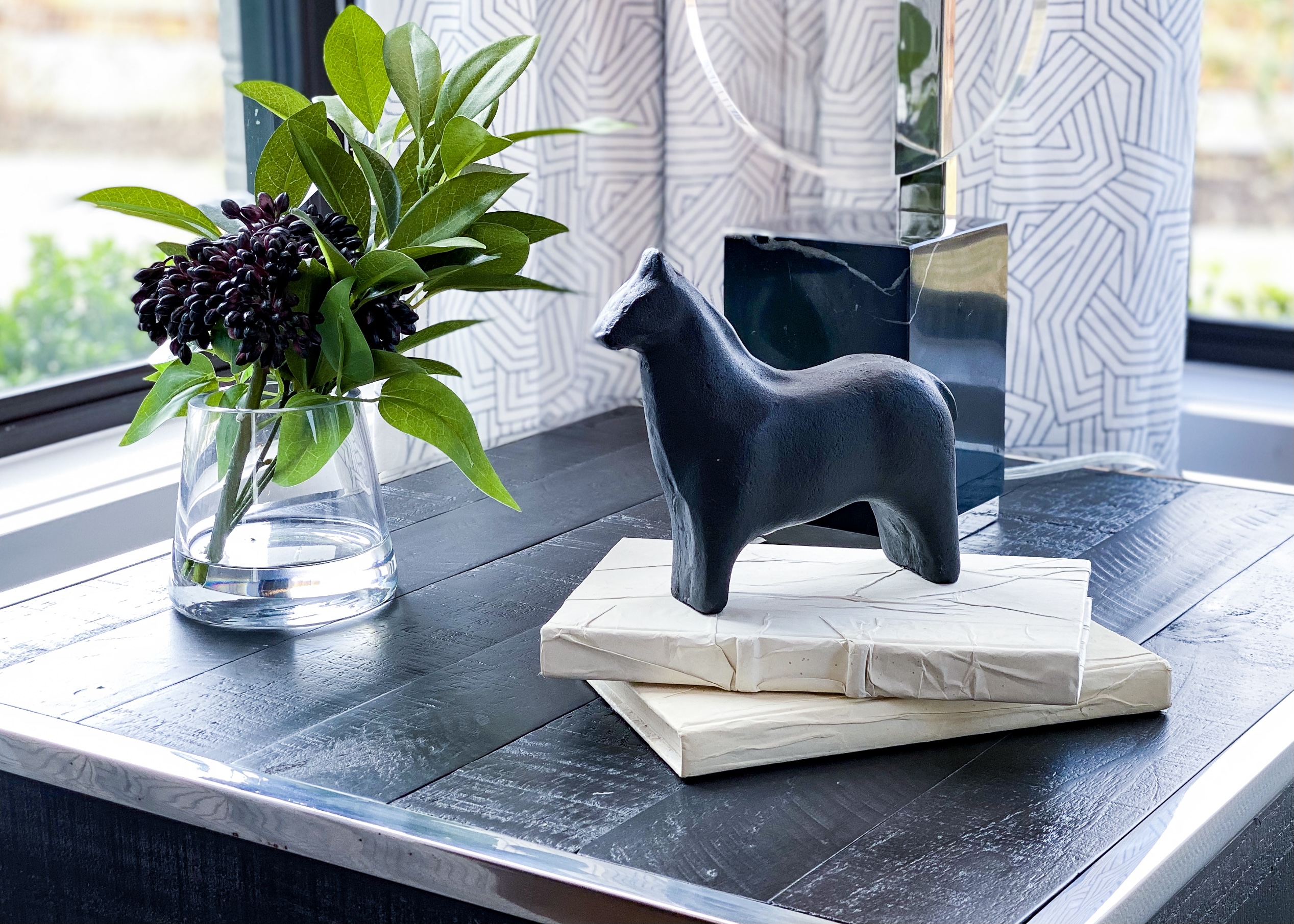 How Many Books Do I Use in a Stack?
Will the book stack stand alone or will it act as a base for other featured items? If it is standing alone, 2-5 books are standard.
If you are featuring a small vase or sculpture on top, only 1-3 books as the base are needed.

Types of Books to Use
You want to use only hardcover books, without the paper cover preferably (occasionally beautiful photo covers are only on the jacket - then it's ok to keep).
Suggested subject matters to use are travel books, photography, architecture, gardening, cooking, design or fashion brands. If you want to showcase your personality, add books that relate to your hobbies, like a love for animals or history.

Want specific ideas?
Below are some favorite decorative books pro designers use, selected solely for their size and beautiful covers - not judged by their written content. If that is important to you, please read the reviews :)
*This post contains affiliate links

Travel Theme Collection
This book about Paris would be beautiful with other pink or black books
Size: 10.2" x 12.9"
This book of India's architectural patterns would be beautiful stacked with pinks or tans
Size: 7.25" x 9.88"
Or this book of Italy would go great with blues or tans
Size: 13"x10"

Fashion Theme Collection
This pink Dior book is a bit small, but would be great on top of a larger horizontal book stack in blacks or pinks
Size: 5" x 7.2"

This blue Prada book would do nicely on top of a blue or black stack
Size: 5" x 7.2"
This much larger, Dior Couture book would make a good standalone statement
Size:11.4" x 14.4"
This Tom Ford book is a staple decorative coffee table book in many decorators inventory - the size and bold, simple black and white cover make a statement - with over 2" thick spine. *Warning, per customer reviews: has some sensitive photo content, unsuitable for children - could remove those pages*
Size 11.2 " x 14.8"
This Vanity Fair book is another large statement piece with bold typography, just under 2" thick spine
Size: 11" x 14.25"
This Chanel book has a simple elegance
Size: 9.8" x 11.3"
This Louis Vuitton book could blend with 2 color families depending on how it's displayed - makes a great contrast topper to a black stack as it has a mostly beige cover and black spine, 2"thick
Size: 12.5"x9.88"
This Louis Vuitton Marc Jacobs book has a glam gold foil and white cover, with 1" spine
Size: 10.42" x 11.8"

Design & Decorating Theme Collection
This gold and white mosaic cover book is another stunner, with 1.5" spine (It doesn't have gold foil though, as it appears in the feature photo - it is a matte paper cover)
Size: 9.19" x 11.27"


This Simplicity design book has a beautiful black and white cover
Size: 9.84" x 13"

And this smaller Elements of Style book has a bold black and white stripe spine design
Size: 7.38" x 9.13"

This Made for Living book has a simple, modern gray spine
Size: 8.3" x 10.3"
This Live Beautiful book would blend with a light neutral stack of creams and tan books
Size: 9.35" x 11.35"

This Architectural Digest book makes a simple yet bold statement with its 1.5" thick spine
Size 10.55" x 13.45"

The white cover of this White and Neutral home decor book is a fresh accent, though only 1/2 inch thick so it would be better in a stack, not as a standalone
Size: 8" x 12"


The Authentics book is one that has a bold, modern spine great for stacks, or a beautiful cover as a standalone, at just under 1.5" thick
Size: 10.3" x 13.5"


This bold pink Art book makes a wow statement on any tabletop, at just under 2" thick
Size: 10.31" x 12.13"


Cookbook Collection
This French Laundry cookbook is a favorite to use on display in white kitchens, see styled kitchen example photo below
Size: 11.31" x 11.25"

These Magnolia Table Vol 1 and Magnolia Table Vol 2 cookbooks are also a favorite of mine. I adore Joanna Gaines - her kind, authentic nature is such a breath of fresh air on television. If you have never had the pleasure of dining at her family's yummy restaurant, Magnolia Table, these cookbooks are the next best thing. They have a quality feel for a low price!
Size: 8" x 10"
*As an Amazon associate, I earn from qualifying purchases* Think of me as your personal shopper, but Amazon is footing the bill for the service. If you purchase an item using the link here in this post, there's no additional cost to you, and for discovering & sharing this new item for your home, I earn a small commission from Amazon to cover the administrative costs of running this website. Win-win :)
decorating tips concierge
Get the latest design tips & strategies delivered to your inbox every month.
(Yes, they are FREE & we keep your privacy.)
Yes, deliver to my inbox!